Get Revved to Kick Off Summer this Memorial Day Weekend with Classic Cars, Entertainment, Shopping and Dining
SOMERVILLE, N.J., May 24, 2017—Classic cars are rolling back into Downtown Somerville for the 28th annual Cruise Nights celebrated
all summer long beginning Memorial Day weekend. Classic, vintage and collector cars will line Main Street every Friday night beginning
May 26 through Labor Day for one of the largest events of its kind in America.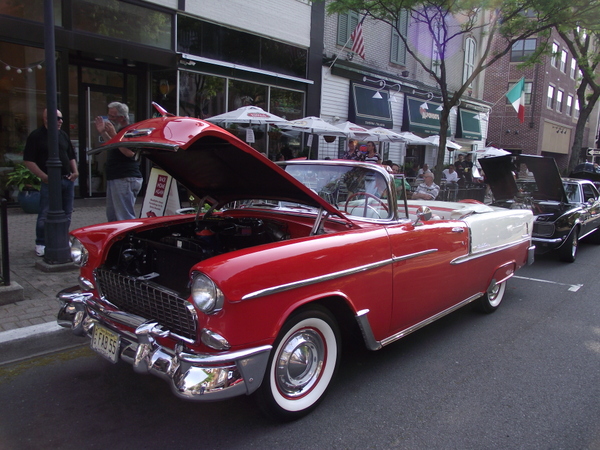 What began in 1989 as a small gathering of local auto aficionados has grown into an event featuring more than 100 classic and collector
cars from all over the Tri-State area. As the popularity of Cruise Nights has grown, so has its attendance. More than 4,000 people turn
out every Friday night to enjoy the captivating cars, mingle with friends, browse boutiques and dine outdoors.
"Main Street comes alive with the buzz of the crowd and the sound of the engines," said Beth Anne Macdonald, executive director of the
Downtown Somerville Alliance. "Cruise Nights are a kaleidoscope of colorful paint jobs, makes, and models that span the entire automobile
era."
According to Macdonald, what makes Downtown Somerville Cruise Nights unique is the location: "The event isn't isolated in a parking
lot, strip mall or field. Instead, Downtown Somerville's vibrant setting provides the perfect backdrop for a fun summertime night on the
town."
For more information about Cruise Nights, visit www.downtownsomerville.com.
WHAT:
Somerville Cruise Nights
WHEN:
Every Friday beginning May 26
Memorial Day through Labor Day weekend, 6 p.m. to 9 p.m.
WHERE:
Main Street, Somerville, NJ 08876
FREE EVENT
INFORMATION:
http://www.downtownsomerville.com/
ABOUT THE DOWNTOWN SOMERVILLE ALLIANCE
The Downtown Somerville Alliance (DSA) is dedicated to celebrating the spirited atmosphere of the downtown in all projects
impacting the business community. DSA promotes, enhances and revitalizes Somerville's downtown as a thriving commercial
district and community-gathering place for residents, shoppers and visitors. For more information about downtown Somerville,
visit www.downtownsomerville.com, call 908-541-1600 or follow news on social media at Facebook.com/DowntownSomervilleAlliance.