How A Somerville Beauty Salons Grand Opening Is Inspiring Change In Main Street Communities Across New Jersey

By- Tom Kubrak

As of February 23rd Illustrated Beauty(IB) has officially celebrated their moving from 120 west main street to 87 W Main st. A move that might confuse some people who don't understand why. This salon, that is by no means a "typical salon," specializes in everything and offers everything from haircuts, dreamcatchers i-tip and tape-in hair extensions, airbrush spray tanning, makeup, waxing, lashes, education, and on site bridal services. So for the ones who need some proof of what they can do well the team of 8 at Illustrated Beauty just doesn't have time for all the questions, because their too busy working on the ones that didn't need any proof...
...They just believed.
It was February 23rd, 2019 and the chill breeze came in a rush over the Somerville streets. The chilly breeze wasn't the only rush that was happening that night. There was a rush of people coming into the doors of a business that was just having their official grand opening for their newly moved shop. Their shop that has been in business for five years.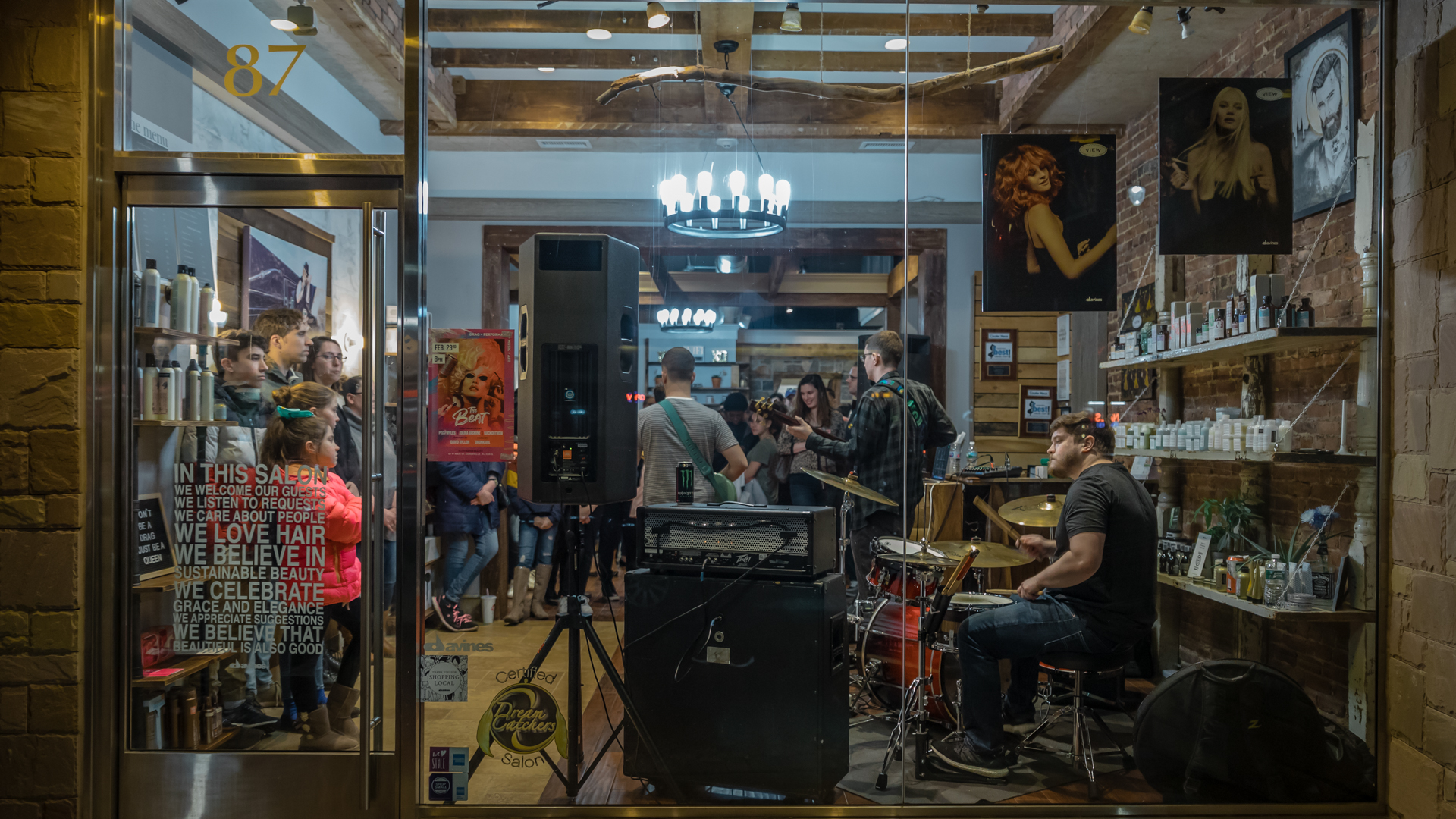 On this night in February, this business was not trying to kick it off in any normal way. They were going to kick it off in a way that only they knew how to do. With their love of music, they brought in a band to start raising the roof a little higher. With their love of keeping it fun and interesting, they rolled out a red carpet and brought in Drag Queens. With their love of community and the people in it, they brought in the Mayor of Somerville to kick off the well planned out evening.
'We've found our identity. After the mall came in and changed it...so go to Bound Brook, go to Manville, go to Raritan and then bring them back here.' The Mayor was heard saying as he stood at the front of the shop at the beginning of the rolled out red carpet.
The mood was set and a message was sent. Somerville is continuing to grow and innovate and Illustrated Beauty was a part of it. Somerville was coming into its own and bring the surrounding communities together. The opening of this multi-dimensional beauty salon was just another reminder of the exciting things that were happening in the small but mighty town in Somerset County.
With the ideas, effort and collaboration by individuals that are unknown to most and well known by few, it's clear that this wasn't going to be the last opening speech for a business.
So as the Mayor concluded causing a rupture of applause, the DJ, who is known as DJ Drunk Girl, got on his mixer board and got the music going again for the venue. Before the night hit into the next phase though with the band Back Out Now the owner brought her whole team up to thank them and get some everlasting photos taken by some of the professional photographers who were brought in for this entertaining and memorable evening.
After the night was officially kicked off by the owners loving embracement and words to her team it was time to begin the evening. Time to kick off and show the people what an event at this place was all about. The singer got on the mic, the bass guitar player got ready to deliver the sound that would keep it all together and the drummer sat down to bring the beat and the strength of the song for the evening.
(Note- all quotes are by the Owner Jenny Jacome unless indicated)
Record Breaking
With the opening of any business, many people only see the final product of the work they put into opening the place. What happens before that is sometimes never known.
"The hard core stuff such as painting, finishing floors, sanding walls, and staining started before Thanksgiving. I spent 12 hour days here."
With her husband Jarrod's help, her team, and the other contractors, they worked tirelessly to get the doors open as quickly as possible. Because of their efforts too, they may have broken some records or created some new categories in the process.
Because of that hard work they may have set a New Jersey record for the quickest business transition from one location to another. When they closed their doors at the other location officially on December 9th, they then quickly moved everything over on December 11th, and by the time the inspector walked out the door on December 18th they were officially able to open up the doors again for their anxious clients.
On top of their speedy work in opening the doors, they were rewarded, not for that, but for something they had been working on for a long time. Since its official opening in 2014 IB has been working to build itself to the best it could be and in 2018 they finally achieved a well deserved award.
"We were actually voted and won Best of The Best Hair Salon and Tanning Facility in Somerset County. That was the goal for me forever."
The Vibe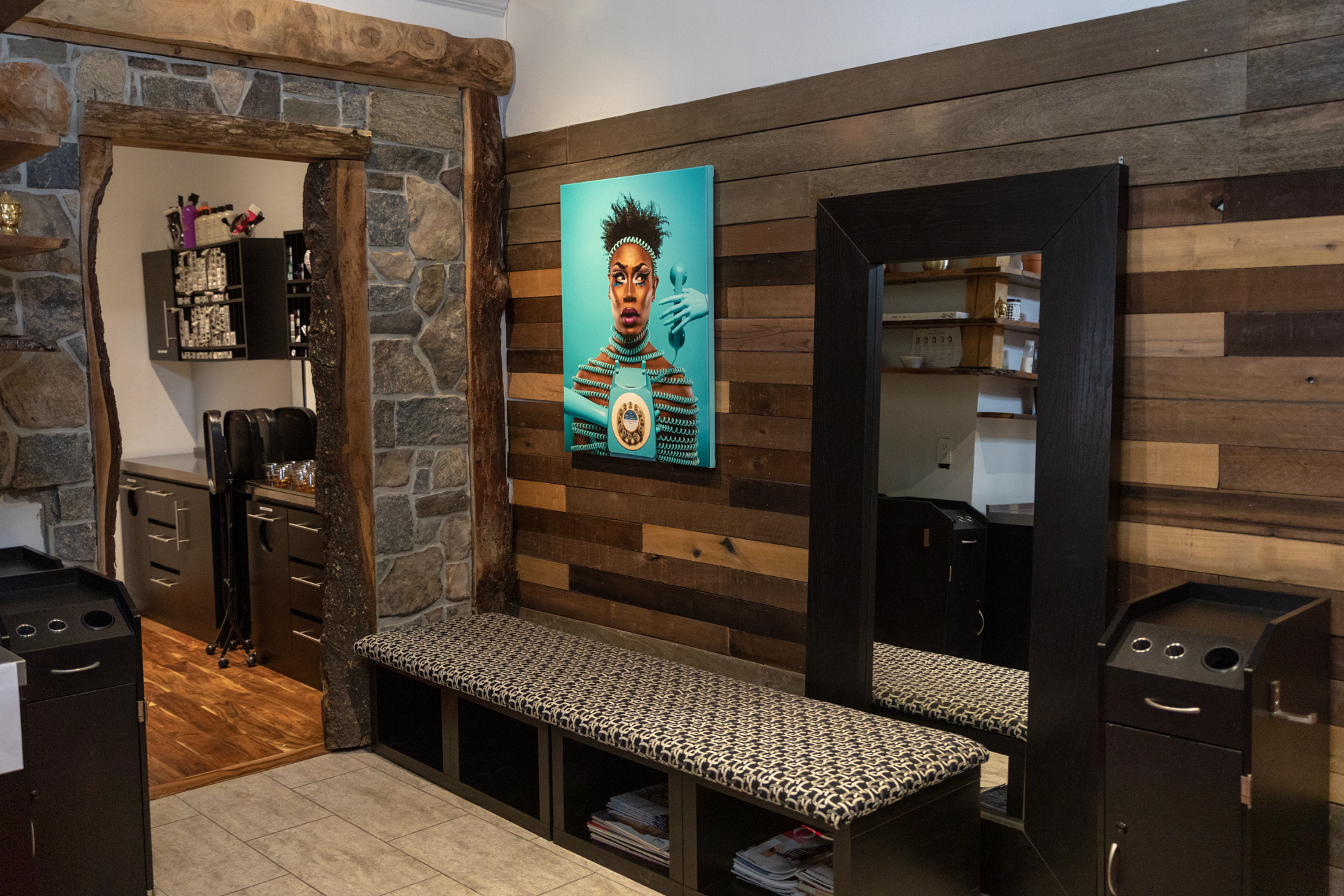 When you step foot in IB a different aura penetrates your senses. You begin to see all of the different elements, but can't seem to find the words to describe the place. If you've been to the old location, on the other side of main street, you definitely see and feel the difference. It's a difference that they've been hoping and working to have for years.
"So before I think we were more contemporary I think like a sleek look. Our ambiance has always been the same."
The new look offers a slightly different appeal and feeling.
"I love the new look we created. It compliments our warmth."
Now, with the bigger space they've added a few things and the high ceilings paired with the woodwork, eclectic floors, and simple yet impactful paint colors it delivers a unique comfortable feeling.
"It doesn't feel like you're too close to one another. I feel a lot of places are really smushed. In here it's very open. There's a lot of room to move around." - Ashley Neuman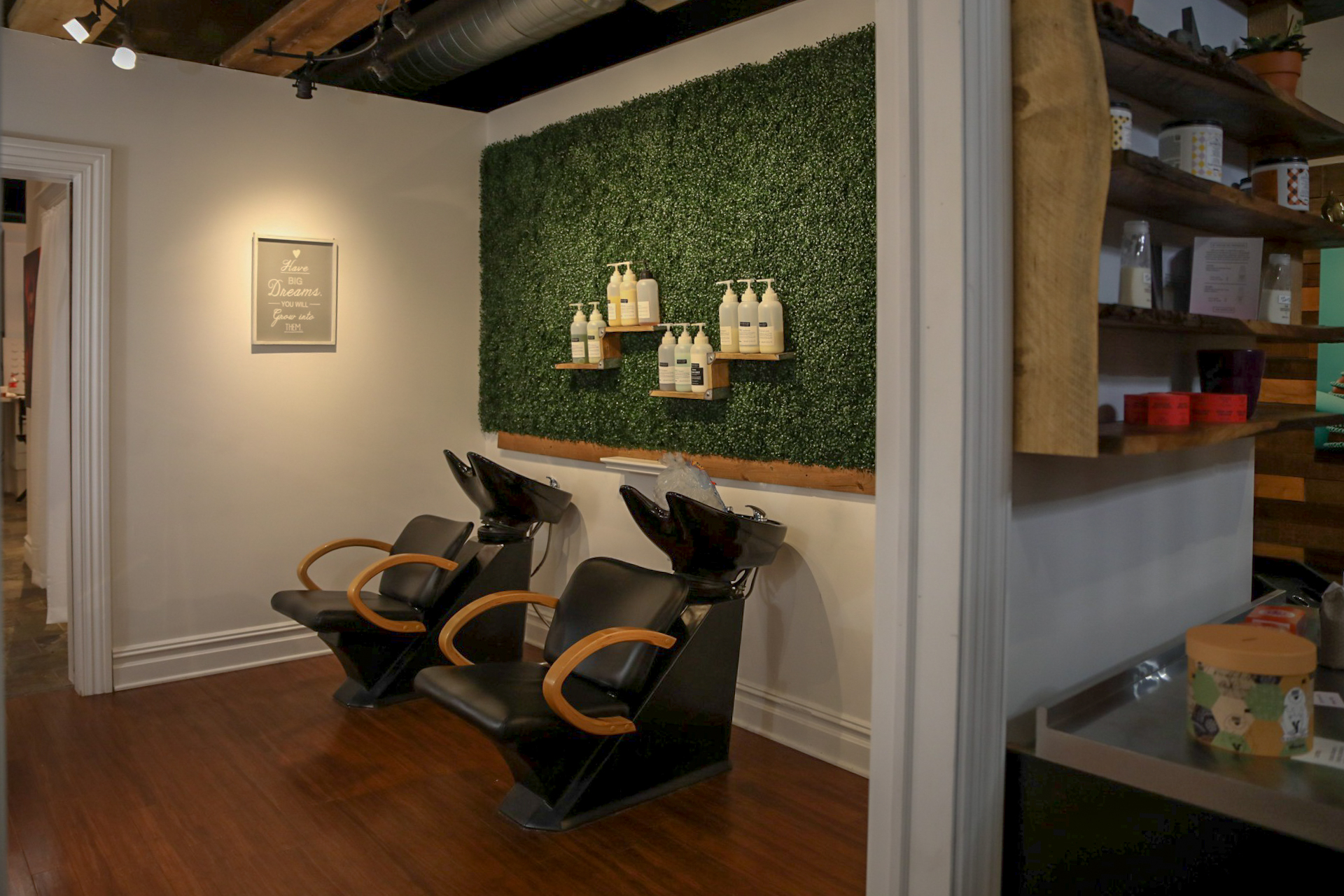 If you've ever been concerned about the music someone plays in a salon, or anywhere for that matter, there's no worry here as they're going to keep it interesting. They put that mindset into all aspects of their business too as they give you a little bit of this and a little bit of that.
"I'm different in everything that I do. Even from the music we play here, we have alternative one day, we'll have Rob Zombie the next and then we'll play Reggaeton in the next hour."
A lot of times too, "It doesn't make any sense." It's an environment that engages with all the guests and keeps it random and fun. Which is just the way they want it too. From the look, feel and the music, it's what they've envisioned for a long time and now it's real.
It's not just in the salon they have fun either. IB has had a few events where they've brought a band in to perform and for everyone to just hang out and have a good time. It's just a low key professional environment that makes everyone want to come in, hang out and check out the place. If you want a high end experience with a down to earth vibe then IB is the place for you.
Why The Move?
"I honestly don't know how all of this actually fit in that 800 sq ft place."
Although she wouldn't change that experience for the world it was just time. With everything they wanted to do, there was just no stopping them from growing and expanding. With that though comes some big changes. As IB's visions and plans kept growing that meant they kept on getting more. They kept building their business but over time it came to the point where they needed more space.
So after Three Hearts Home, the business that was there before, closed it seemed like a perfect fit.
"I used to shop there, so I was upset when they closed. I loved their furniture though and it was exactly the vibe and style I wanted."
Having the vision in her mind for a long time to expand, the owner Jenny Jacome's business mindset kicked in quickly. She saw that this could be the spot to make those visions she had a reality. She acted quickly and in August they made it official. It started with a phone call when she was on vacation, with the owner of the building in June, and then in August they signed the papers.
With big moves like this requires other people to believe in you and your vision. Without the belief of Tom Genova, the owner of the building, IB would not have been able to make the move. After seeing and believing her vision of expanding he was even willing to wait until the lease was up on her other property.
"I'm so grateful for his belief in me and my business."
Somerville New Jersey Hair Salon Education Center
Growing up in the industry and being around it since she was 11 years old, she found her career at an early age and would eventually become an educator in it. So it's not really a surprise to have her business be the one to make this move in Central New Jersey. It's a decision that is sure to bring the stylist game up another level around here.
"The vision has always been to expand for education. My passion for honing my skills and knowledge led me to further my education and become a Licensed Cosmetology Educator in NJ."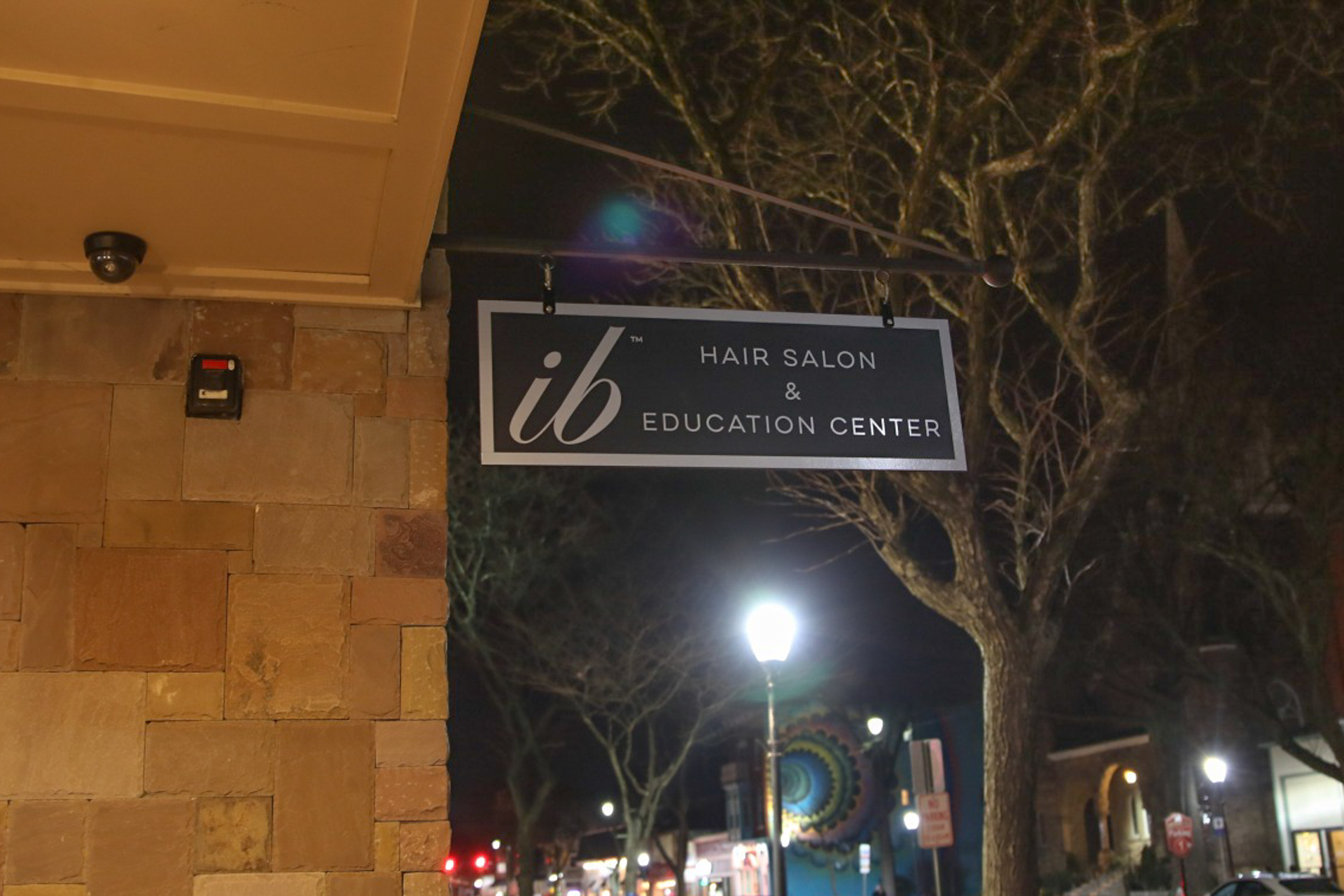 The experience allowed her to train her future team. After thinking for a short time it was a no brainer to offer advanced education for other stylists in the area and Central New Jersey as she said, "Why not?"
Ib will provide advanced education with Guests Educators and Stylists. It will allow already licensed stylists, future professionals currently in Cosmetology school, assistants, salon owners, barbers and makeup artists in Central NJ to have direct access to education. Ib Education Center, is a place that will push them to follow their desire to advance and hone their techniques in their career as a stylist.
"Being able to be innovative, learn, and keeping up with our techniques is a requirement for us here. It's the only way to offer the best to our guests and keep them coming to us for more."
The Beginning
Like other businesses IB started as the owners freelance project before she decided to open Illustrated Beauty.
"It's about to be five years as an actual store front."
When it comes to the name and figuring out what to call it, she was inspired by her great friend while Jenny did her hair. Her tattoo artist Leah, owner of Artisanal Tattoo, was instrumental in giving her just the right amount of inspiration, guidance and support to commit to the name Illustrated Beauty.
Her startup freelance mindset is still in play too as she continues to build and feel the pressure of being a business owner.
"It was definitely scary, but at the same time I think I lived off of adrenaline. Not that I love being pressured but, I think my best comes out when I know a lot is on my plate."
Somerville NJ Salon
Many people have memories of Somerville from where it was at 5, 10 even 20 years ago. It looked like a completely different town. The owner has seen it for over twenty years. The goods the bads and the uglies. Through it all, since she was 11 watching her Mom being behind the chair and leading her team in her beauty salon, to now being a business owner herself, she has stayed.
"I love Somerville. I feel like I've grown up in Somerville. I've seen it's changes ever since I was eleven years old."
You can hear her passion for this town with her attitude, every day walking around town and when you get the chance to talk to her. It's people like Jenny and her team who are helping build Somerville up.
Community
"You know, if you have the space, why not bring people together."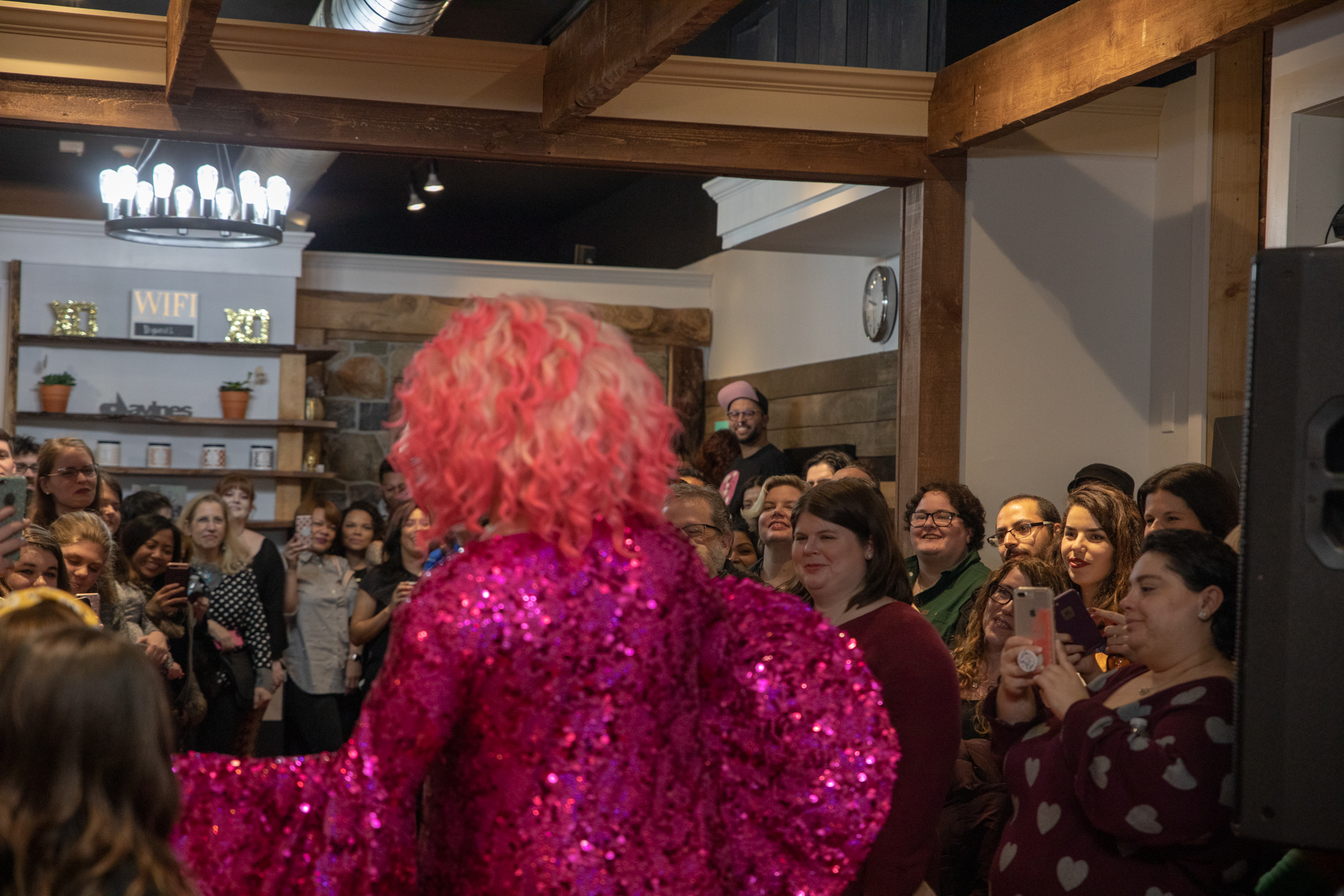 It's about working together and the Team here does everything possible to create a space that allows the community to feel comfortable in. They want to create events that will bring everyone together. Sometimes it doesn't even have to make "sense" either. As they did with their opening event, they're doing things that you don't typically find in a salon in order to bring the people in their community together.
"You can't do it alone. You can't do anything really well alone. You need a team behind you and I think, Somerville, since it's up and coming really needs the community to come together and support one another."
The Culture
After sitting in Ib for a little while you get a sense of what they're all about. The way they work together and with their customers, reminds them and the customers of a show that last aired in 1993.
"The show Cheers had this thing 'everyone is welcome, everyone has something to say, and everyone knows your name.' That's kind of what we live and thrive on and the fact that everyone is welcome here, that's never changed." -Ashley Neuman
The team is what helps build this culture and the owner has made it a point to hire the right people to help build this place the right way. Without the people she brought on board, in the early days, like Ashley Neuman, Amanda Hidalgo, and Amanda Rae Flemming they probably wouldn't be where they're at now.
The owners vision for the culture, since the beginning, is that everyone is welcome. With the new store they're not going to stray away from that mission. Part of their culture is trying new things and doing things differently. What they are hoping to do with the new locations decor and atmosphere is allow the men who come in to feel comfortable and not feel like they're in a "too feminine salon." With the right culture and team in place they definitely can change that persona.
"As a team we don't take ourselves too seriously. We love to joke and have fun with one another and every guest. Sometimes a salon can lack inclusiveness and great customer service. We make sure that we give our guests the ultimate experience."
Supporting Business in Somerville NJ
One way that Ib is extremely unique is that they love to support other small and local businesses. Jenny strongly believes that when you support small businesses you are supporting a dream. Because of that belief, cross marketing with local businesses is important to Jenny and she believes that it will continue to build Somerville up. For that reason she approached Cheech's Own about cross marketing.
"I love community and I love working with other businesses. I've always been obsessed with their Cold Brew and couldn't wait until they finally opened their doors. Why not share that with my guests?!"
In a community of a little over two square miles, where there are 20 different salons, competition is high. That doesn't even include the neighboring communities, in 5-10 mile radius, that brings that number to an astronomically high number. As a person who's just moving into town, it can be overwhelming to choose. So many times business' are in a head on battle to draw in the new sets of hair and faces. IB has a different look at the whole 'competition thing' with all of the salons and other business' in the community.
"I think as business owners it's time we cheer each other on and not try to compete with one another. That's what community is. It's not about competing, it's about building each other up and I think the only way Somerville will rise is if the business' come together."
No, it's not about selling another salons product when you have one of your own, but why not say "Good job" from time to time or show up to one of their events. For too long business' in small communities have been competing with each other like it's a bloody war zone. At IB they're hoping to change that. If they continue to have their unique events and support other businesses, they just might spark a fire that will help this community and beyond.
So as Back Out Now completed their part of the night and successfully delivered their style of music to the souls of the guests who showed up, the next stage of the night began. This stage was sure to bring this event to the next level. Before the next stage could begin though, there was a little break in the action. So, the conversations continued on and new relationships were established over more music by DJ Drunk Girl, good drinks, and fine art by David Ayllon.
Just as the people started to get comfortable with the break in the action there was an enthusiastic voice that interrupted the break over the large speakers. It was the main act…
...Pissi Miles and Jolina Jasmine were both ready to bring this evening to a level Somerville may have never experienced before. They were committed and ready to change that. As they started Pissi Miles began to get the crowd going as she spoke through the microphone. The exact words spoken by Pissi Miles in those early moments of her performance are unknown, but it was remembered that in an energetic wave of her hands she somehow parted the crowd to reveal the red carpet that extended the room, in which, the guests seemed to brush off as any other carpet.
The performance began, and the eyes of the guests were now glued to Pissi Miles and Jolina Jasmine watching each step they made, trying to anticipate what they were going to do next. The performance they put on was something that just would be too hard to explain in writing as it was one for the ages as it filled the air with joy.
Looking back at the night though people are starting to ask…"What did happen in that business on that night?"
After compiling the data, photographs and videos captured from the night, one of the photographers, Erik, did get something that might let the people in on this now infamous night. Exactly what he captured though... well…
You be the judge. Here's a little highlight to allow you to get in on the action that went down during...
...The Grand Re-Opening of Illustrated Beauty.
Story By- Tom Kubrak
Email- This email address is being protected from spambots. You need JavaScript enabled to view it.
IG & TWTR @tomkubrak
Photos and Videos by-
Erik Renninger @erikrenninger

Website erikrenninger.com
Illustrated Beauty

Salons in Somerville NJ
Website - ibillustratedbeauty.com
IG & FB- @illustratedBeauty
87 West Main Street
Somerville, NJ 08876
(908) 526-9069
This email address is being protected from spambots. You need JavaScript enabled to view it.@This email address is being protected from spambots. You need JavaScript enabled to view it..This email address is being protected from spambots. You need JavaScript enabled to view it.
Pissi Miles & Joline Jasmine
Website- Pissimyles.com
David Ayllon
Website- Davidayllon.com
IG- @davidayllon
Back Out Now
IG- @backoutnowband
Check their music out on Spotify! sptfy.com/backoutnowband
By accepting you will be accessing a service provided by a third-party external to https://www.somervillecover.com/