By accepting you will be accessing a service provided by a third-party external to https://www.somervillecover.com/
Magic To Do: Somerville High School Presents "Pippin"
School puts a David Bowie-meets-punk spin on the Broadway tale of a boy-prince seeking meaning in life.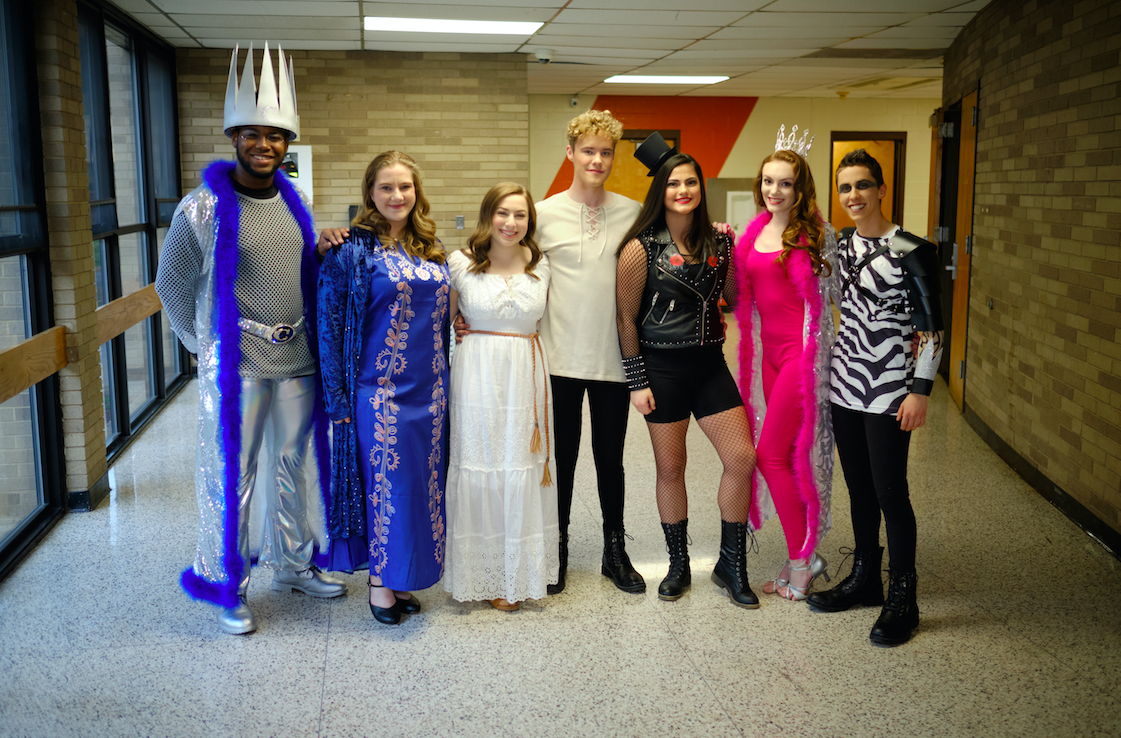 "Join us! We have magic to do just for you!" When the curtains open on Somerville High School's production of "Pippin," on February 28, March 1 and March 2, the cast entices the audience to suspend their reality for a few hours and go with them on an adventure.
The exuberant Tony Award–winning musical is loosely based on the medieval legend of Charlemagne's son, Pippin, heir apparent to the Holy Roman Empire, who embarks on a quest for a meaningful life.
The Somerville version is mix of early 1970s glam rock and the New York City punk scene.
"Think: Bowie meets the Clash," says Christine Terranova, who is directing her second show at the high school along with assistant director Amanda Gorzynski. "Although it is based on a story from the Middle Ages, 'Pippin' is not limited to a particular era, which allows us to be creative. So, we're setting it to be like a rock concert."
"I have wanted to do this show for a very long time, but needed the right type of cast. I've been waiting for a 'Pippin' year," says Karen Gorzynski, who has served as musical director for the high school drama program for over three decades. "I love the music. I love the story. It's something that everyone can relate to because everyone is searching for their purpose in life."
As with past Somerville shows, the costumes once again take center stage under the direction of Janet Jacobson, who worked in the New York City fashion industry, designing apparel lines for companies like Reebok and Mark Ecko before she started a second career in special education at the high school. Here, she draws upon her experience in the 1970s New York club scene to design costumes that pay homage to the contrasting styles of glam rock (David Bowie, New York Dolls and Marc Bolan) and late '70s CBGB's punk scene.
"Charlemagne's army is true New York punk, black-and-white zebra prints. The Visigoths, the opposing army, is raw punk — camo, hand-painted tee shirts that are slashed and safety pinned," Jacobson says. "Conversely, Pippin and his love interest, Catherine, are more simplistic. Since he's on this journey to find himself, he's neutral and not attached to a certain look. And Charlemagne is glamed-out with metallic silver and a touch of royal blue."
Although the production takes a different approach from the 1972 Bob Fosse original, choreographer Nicole Frangione-Zivkovic honored the director's iconic style. "I approach choreographing the musical each year as an opportunity for the students to learn some dance history in the process," says Frangione-Zivkovic, who has been working with the Drama Program on its musicals for over a decade. "'Magic to Do' is an exciting opening scene that features our lead dancers and gives the entire ensemble a chance to interact with one another."
"Pippin" showcases orchestra direction by Matt Krempasky and set design by Jeff Carlson, Theater Arts Advisor, who built the set with a team of Somerville High School students. William Ingoglia is the lighting designer and Tyler Kazar provided guidance to the students managing the lighting and sound boards.
The show features Hayden Verbanas (Pippin), Jessica DeSarno (Leading Player), Tevin Ighalo (Charlemagne), Megan Fitzgibbon (Fastrada), Ally LaMont (Berthe), Sophie Belkin (Catherine), Grayson Nierenberg (Lewis) and Danielle Hadley (Theo). Members of the ensemble include: Will Adams, Melissa Andia, Colin Bower, Paris Bozutti, Aiden Broadbent, Shannon Dempsey, Julie Ettore, Breanne Fabriczi, Marcello Fois, Kylie Hache, Imani Jackson, Kaleigh Jess, Sebastien Kilduff, Sophia McKean, Julia McKenna, Josie McNeil, Joshua Millman, LindaRose Piccolo, Victoria Piccolo, Christina Pinho, Grace Pivarnik, Marcus Polanco, Michaela Ryan, Noah Sadin, Hope Tracey, Quinn Tovey, Becca Wasserman and Robyn Wasserman.
See "Pippin" on February 28, March 1 and March 2 at 7 p.m. at Somerville High School, 222 Davenport St., Somerville, N.J. Tickets are $13 online at https://shsdrama.ticketleap.com and $15 cash at the door.
Copy written by Patti Verbanas if byline needed.
Photo Notes:
Leading Cast (l-r): Tevin Ighalo (Charlemagne), Ally LaMont (Berthe), Sophie Belkin (Catherine), Hayden Verbanas (Pippin), Jessica DeSarno (Leading Player), Megan Fitzgibbon (Fastrada) and Grayson Nierenberg (Lewis)
Photo Credit: Glenn Wasserman