"Hello Dolly" Performs Magical Matchmaking at Somerville High School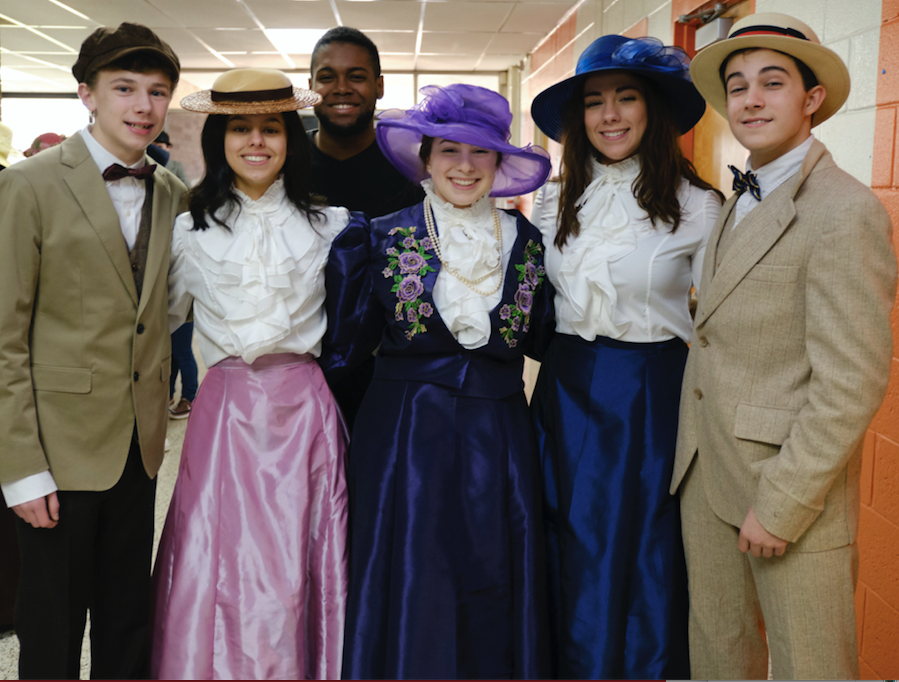 Photo Credit: GlennWasserman. Photo Caption: Dean Tracey (Barnaby Tucker), Paris Bozzuti(Minnie Fay), Tevin Ighalo (Horace Vandergelder), Sophie Belkin(Dolly Gallagher Levi), Julie Ettore (Irene Molloy) and AidanBroadbent (Cornelius Hackl).
"Hello Dolly" Performs Magical Matchmaking at Somerville High School
School musical enchants with tunes, costumes and romance from a bygone era.
By Patti Verbanas
Forget social media and online dating. Let's bring back some good ole fashioned matchmaking…
Well, hello, Dolly!
On March 5, 6 and 7, Somerville High School time-travels to the turn of the 20th century in its production of the long-running, boisterous Broadway musical about a meddlesome, but charming, matchmaking widow with a zest for life.
Carol Channing. Mary Martin. Barbra Streisand. Pearl Bailey. Bette Midler. Betty Buckley. Those are the illustrious names who have played the heroine in "Hello Dolly," a Broadway classic based on a farce by Thornton Wilder. At Somerville, senior Sophie Belkin embodies the enchanting, glamorous Dolly Levi.
"Playing 'Dolly' is challenging. There have been many amazing actresses who have played the role before me with their own takes on the character, so it has been so much fun getting to discover who my 'Dolly' is," says Belkin, who has been acting since childhood and is currently auditioning for college musical theatre programs. "She is incredibly smart and sassy, but she is also down-to-earth and has so much love to give to others. The thing I love most about her is that she is 100 percent confident in everything she does and doesn't care what anybody else thinks of her. A lot of us can learn from Mrs. Dolly Levi."
The show is set around the dawn of the 20th century, a simpler time of romance and discovery, says Devin Massih, who is directing her first show at the high school. "We are dedicating this performance to Jerry Herman, a Jersey City man who wrote the music and lyrics and who passed away in December," she says. "We would not have been able to explore and develop this show without his incredible musical talents and devotion to the arts."
Massih, who has a love for directing young performers, is the Middle School Theatre Teacher in West-Windsor Plainsboro Regional School District, vice president of production on the Board of Trustees at the Villagers Theatre in Somerset and runs the Children's Summer Theatre Camp Program in East Brunswick. "The Somerville students have given their energy, passion and professionalism throughout the entire rehearsal process," she says. "It has been a pleasure being welcomed into an already tight-knit family, and I look forward to creating more with this team in the future."
Karen Gorzynski, who has served as musical director at the high school for 34 years, says the audience will be entertained and wowed by classic show tunes like "Put on Your Sunday Clothes," "Before the Parade Passes By" and, of course, "Hello, Dolly!" "We have a large, enthusiastic cast, which lends itself beautifully to the big numbers in this 'old-fashioned' musical," she says.
As with past Somerville shows, the costumes once again take center stage under the direction of Janet Jacobson, who worked in the New York City fashion industry, designing apparel lines for companies like Reebok and Mark Ecko before she started a second career in special education at the high school. For "Hello Dolly," Jacobson designed costumes that captured the 1890s: Feminine looks, full skirts with petticoats, embellished hats, a reflection of the wealthier New Yorkers. "It was the Gilded Age, a time of growth in industry, inventions, population and the economy — for a few. It was also a time of corruption and economic depression for many," she says. "'Hello Dolly' concentrates on the nicer things about the period — the parades, the circus — and also touches upon the women's suffrage movement. It's a lighter take on the period."
The older style of this work allows the directing and production teams to include large ensemble numbers, varied costumes and a different overall look in representing these characters in this time period, says assistant director Amanda Gorzynski. "This setting allows our students to carry themselves in a different way as they explore older traditions and a much lower cost for a train ride and dinner in the city," she explains.
Nicole Frangione-Zivkovic, who has choreographed the high school's shows for 15 years, appreciated the big ensemble numbers, like "The Waiters' Gallop," that gives an opportunity for featured dancers to shine. "I always enjoy the creative challenge of working with each show's unique style and with a different group of students each year," she says.
"Hello Dolly" showcases orchestra direction by Matt Krempasky and set design by Jeff Carlson, Theater Arts Advisor, who built the set with a team of Somerville High School students. Corey Rubel is the lighting designer, and Tyler Kazar provided guidance to the students managing the lighting and sound boards.
The show features Sophie Belkin (Dolly Gallagher Levi), Tevin Ighalo (Horace Vandergelder), Aidan Broadbent (Cornelius Hackl), Dean Tracey (Barnaby Tucker), Julie Ettore (Irene Molloy), Paris Bozzuti (Minnie Fay), Marcus Polanco (Ambrose Kemper), Danielle Hadley (Ermengarde) , Kaleigh Jess (Ernestina Money), Will Adams (Rudolf Reisenweber), Marcello Fois (Judge), Melissa Andia (Mrs. Rose), Noah Sadin and Quinn Tovey (Policemen), Mike Powell and John Iovino (Cooks), Grace Pivarnik (Clerk) and Colin Bower (Stanley/Waiter). Dancing Waiters/Ensemble are: Colin Sheeley, Megan Fitzgibbon, Linda Rose Piccolo, Victoria Piccolo , Hope Tracey, Kylie Hache , Sophia McKean, Bridget Lacerda and Allison Lopac. The ensemble is: Isabel Bowden, Megan Cichetti, Katherine Espina, Nina Fabiano, Breanna Fabriczi, Sydney Fried, Wes Hack, Tommy Jones, Madeline LaRoche, Julia McKenna, Brynn Meyers, Phoebe Montemurro, Christina Pinho, Julianna Pitucco, Cassandra Shiloff, Emily Torrea-Hernandez, Sam Tunkel, Juliet Walnoha, Becca Wasserman and Maddie Young.
See "Hello Dolly" on March 5, 6 and 7 at 7 p.m. at Somerville High School, 222 Davenport St., Somerville, N.J. Tickets are $13 online at https://shsdrama.ticketleap.com and $15 cash at the door.
Other News:
Somerville Cover Conversations Series Filming Early Spring Episodes 5-9.
Past Episodes and Sign up Form at https://www.somervillecover.com/conversations
Events in Somerville New Jersey
Interested in becoming a Content Provider Sign up Here
Somerville Cover

Facebook | Instagram | YouTube
Supporting the local talented, artistic, entrepreneurial, and enthusiastic community, in and Around
By accepting you will be accessing a service provided by a third-party external to https://www.somervillecover.com/