Article by Michael Mizov @mikemizov
Photos by Arthur Graham @arthurgrahamphotography
Video and additional photos by Erik Renninger @erikrenninger
Now through October 2nd Summer Stage is back on Division Street. Make your way downtown every Saturday from 6pm-9pm and check out the eclectic mix of bands that will be performing.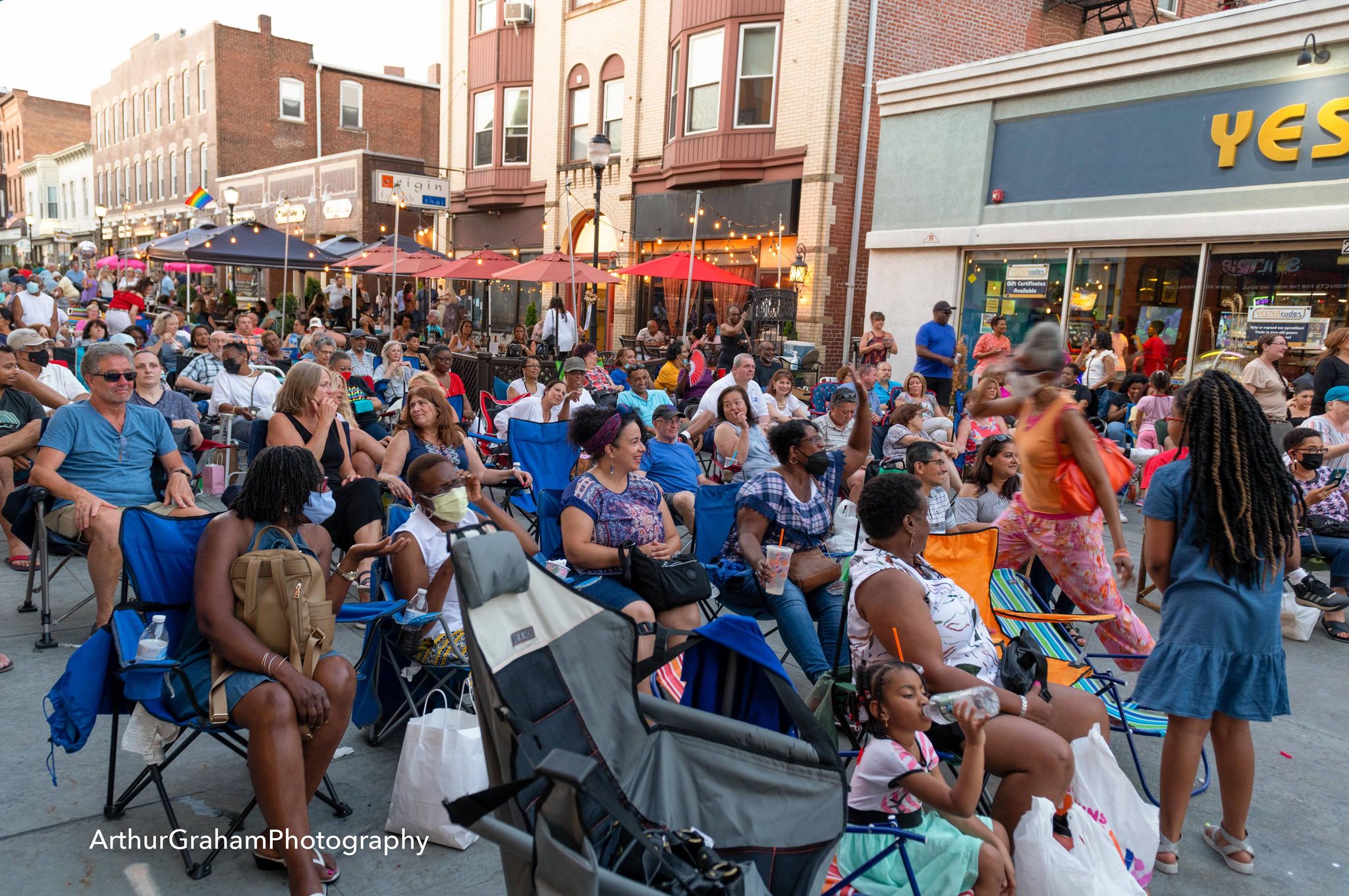 There are a couple of new guidelines this year, first, maintain six feet of distance between yourselves and the next group and wear a mask (per Executive Order 163 for outdoor gatherings, though that has since been superseded by Executive Order 241 eliminating both of those requirements). There's no formal seating available but if you're an individual that needs to sit down, feel free to bring your own chair to do so.
Tyrone Stackhouse Somerville Summer Stage
Rules aside, here's the remaining schedule for the year:
June 19: The Frost Kings a swing, blues, and R&B band from North Jersey.
June 26: Mail Order Bride a high energy rock cover band covering hits from U2, Aerosmith, Metallica, Bon Jovi, and more.
July 3: Bob Lanza a blues singer and guitarist.
July 10: Nick Ryan and The Mess a high-energy band that has drawn comparisons to Springsteen.
July 17: John Busse a guitarist and singer/songwriter from Somerville.
July 24: The Bryan Hansen Band an alternative rock band that's a mix of funk, rock, soul, and R&B that have been compared to The Weeknd, Harry Styles, and Maroon 5.
July 31: The Broadcasters a rock cover band playing mainstream hits from classic to current.
August 7: Zaire a three piece acoustic trio known for their strong harmonies and covers of The Eagles, Tom Petty, and Radiohead.
August 14: The School of Rock located on South Bridge Street, their band will take the stage and show off what they've learned.
August 21: Venture to Zen a rock/acoustic zen band performing original songs as well as covering classics from Linda Ronstadt, Led Zeppelin, Heart, Journey, and more.
August 28: Rainbow Fresh a unique sounding band that is like Led Zeppelin performing Steely Dan with a little Latin groove on top.
September 4: Sun Dog a band that performs the best in classic rock, country rock, classic country, some Motown, and some original songs.
September 11: Art All Day, The Outcrops, a blues-infused rock and roll band from 12-3 and Bob Lanza from 4-7
September 18: Terrence Haupt, playing a variety of originals, oldies, pop, and classic rock
September 25: Ready Set Go a party rock country cover band
October 2: Mike Holland as "Elvis" – well, three guesses what this might be about.
And there you have it! See you on Division St!
Summer Stage in Somerville NJ Live Music Saturday Nights
Interested in becoming a Content Provider
Submit your Somerville New Jersey Event, News, or Announcements
Facebook | Instagram | YouTube
Comments
No comments made yet. Be the first to submit a comment