Information about the Town of Somerville New Jersey


Somerville NJ, Downtown Events, Resturants, Businesses, and Artists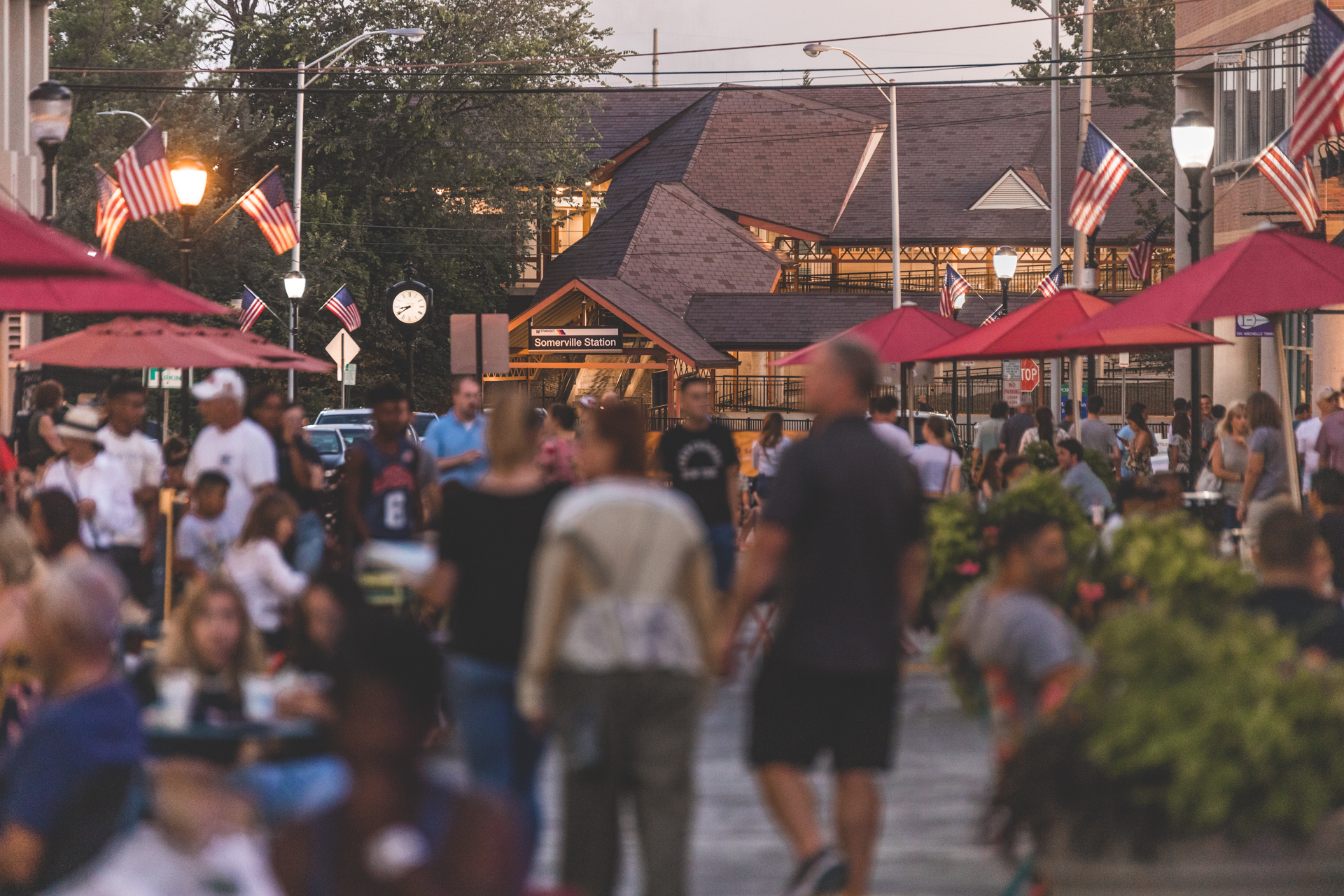 Division Street in Somerville NJ
Somerville NJ community of life in Somerville in New Jersey and surrounding areas.
Somerville NJ is located in Somerset County, New Jersey within a section of Bridgewater Township.
An original settlement, primarily by the Dutch, grew from 1754 in and around the area of the church and Old Dutch Parsonage house. Today Somerville is a great town to be in and around with the development of Main Street and Division Street as local attractions the streets of Somerville are happening every day of the year.
Photos of Somerville New Jersey
About Somerville New Jersey




Somerville NJ is located in Somerset County, in the heart of Central New Jersey. As of 2021 Somerville New Jersey has a population of 11,867 and is in the top ranking for population density. Somerset Country consists of twenty one municipalities that carries a population of almost 350,000 residents.
Originally settled almost 350 years ago or mostly agreed upon in 1683 and given the name "Somerville" after four brothers from the Somerville family (William, John, James, and Edward) the town and was mainly farm land with a small village and 50 to 60 homes who many were viewed as prosperous. In 1783 the court house was build and can also be viewed as the beginning of the town and once the railroad was built in the 1840 everything began to take off with almost 400 hundred homes by 1872.
During this time Fire Company No 1 was also established (1835), where a tub and a few men with buckets would answer the call. Later in 1873 the Somerville board purchased a steam fire engine. Water power along the Raritan River helped spark industrial growth and sparked the growth and development of education and culture. A red clay that was used for brick making helped produce a product from Somerville, NJ.
George Washington would also spend time in Somerville during the Revolutionary War. Home to several historical figures Somerville carries an extensive history that has evolved into a unique destination to live, visit, and work.
In more modern times in the New York Metropolitan Area the seat of Somerset County is located in Somerville, NJ. Somerset, named after an English country "Somerset" is one of the Americas oldest counties. Somerville, formed as a town by a board of commissioners in 1863, was populated primarily by the Dutch during its early years. Historic building still stand today, the Old Dutch Parsonage and the Wallace House along with several Victorian architectures.
Now a borough, since its separation from Bridgewater Township in 1909 when Somerville incorporated, Somerville's community continues to thrive from days of Woolworth and Buffalo Bills to Division Street Walk and places like Project Pub and Verve. Somerville is also home of several events throughout the year from street fairs, car shows, and music events to a historic Tour of Somerville bike race that has been going on for over 70 years starting in 1940. The Tour of Somerville bike race is the oldest competitive bicycle race in the country. Now a three-day event that is even streamed over the internet, the Tour of Somerville provides live music, fast action, and entertainment.
This event coined the Kentucky Derby of Cycling peaks on Monday with the Kugler-Anerson Memorial (Arts on Division).
Streets of Somerville New Jersey Main Street, Division Street, Bridge Street, Mountian Ave, Gaston Ave, Paul Roberson Boulevard, Historic Buildings of Somerville NJ Somerville History found within architecture around town.
A list of Historic Buildings in Somerville New Jersey


Somerset County Courthouse | First Reformed Church | Lord Memorial Fountian | Victorian Train Station | Carriage House | Somerville Athletic Association | Somerset Hotel | Courthouse Blo | The Cort Theatre 1941 - located across from the court house | Hotel | Second Natoinal Bank | Cawley Hotel and Resturant | Staats Jeweler | Ten Eyck Hotel | Commercial Hotel | Main Street | Peter's Brook - named after Peter Van Nest | Somerset Hall / Alfonso's Restaurant | Regent Theatre | Gernert Dry Goods | Cron's Drug Store | Parking on Main Street | The Gaston Building | First National Bank | Nuly's Market | Bachman and Van Tine | Old Dutch Parsonage | Wallace House| Center Passage | Second Reformed Church | |St Thomas AME Zion Church | First Baptist Church | United Methodist Church | Forth Reformed Church | Immaculate Conception RC Church | New Immaculate Conception | St John's Episcopal Church | Congregation Anshe Chesed | Shiloh Pentecostal Chruch | St Paul Baptist Church | Good Shephered Lutheran Church |Emmanuel Reformed Episcopal Church | Unitarian Universalist | Somerset Hospital | Deats Memorial Home for Orphans | Somerville Inn| Engine Company No1 | Central Hook and Ladder | West End Hose Company No 3 | West End Engine House | Somerville Fire Museum |Lincoln Hose Company | Wollen Mill | J. Harper Smith Estate | Granetz Building | Somerville Iron Works | Carbon Stove Works | Railroad Station | Trolley | Libray | Camman Home | Doughty Home | Robert Mansion | Borough Hall | Police station | Rescue Squad | Armory | Central School | Somerville High School | Somerville Middle School | Lafayette School | Immaculate Conception Grammer School | Immaculata High School | Adolph Mack Home | Alex Mack Home | Summit | 228 Altamont Place | 237 Altamont | 240 Altamont | 246 Altamont Place | Lindsley Home | Yawger Home | 198 High Street | Ten Eyck Twin Homes | Potter Home | Dakin House | C Stewar Hoffman Home | 41 North Bridge Street | Bridge Street | 221 East High | Samuel Miller House
Walking around Somerville New Jersey


you can find, what almost feels like every day, new businesses, shops, and restaurants moving in and opening up shop. In the summertime events are around every corner with every Friday night bringing the cruise night into town where you can find thousands of car and auto enthusiasts walking up and down main street browsing the display of cars that line up Main Street.
If you are interested in the town and the great attractions that exist, follow Somerville Cover on our website or on Facebook, Instagram, and YouTube for coverage of all the recent development in and around Somerville, NJ.
Popular Streets in Somervile NJ
Main Street
Division Street
Doughyty Ave
Davenport Street
Bridge Street
High Street
Veterans Memorial Drive
Have Intresting information about Somerville NJ?
Send us the information and we will ad it to our page.
Somerville NJ Listings
Cruise Nights | Shopping and Services | Entertainment | Restaurants | Park and Recreational | Historical | About Somerville New Jersey
Supporting the local talented, artistic, entrepreneurial, and enthusiastic community, in and Around Somerville NJ
Somerville NJ | Somerville Cover | Local Somerville Town Information